A Forgiving Lord for those who can't forgive themselves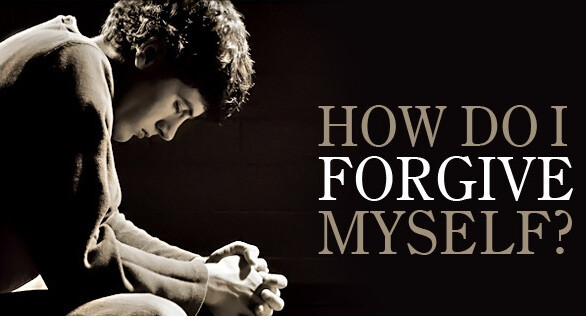 Have you ever done something so terrible, so heinous, so unforgivable that you just can't get over it. You ask for forgiveness from God and you hear the absolution, but there's still that guilty feeling. You go and repent to whomever you sinned against, and they say everythings ok, but you feel deep down in your heart that it's not alright. Yes, you have asked God and your neighbor for forgiveness, received it, but you can't forgive yourself. Yes, you go throughout your days with that burden, that guilt, that daily reminder that you are capable of doing terrible things and that you have done at least one terrible thing that you can't get passed.
Yes, the law says repent because of this. When we are forgiven by God and our neighbor, the sin is forgiven and remembered no more. When we dwell on this sin as if our forgiveness is the only one that matters, then we place ourselves above God and our neighbor. If we say, "Yes, I know they say I am forgiven, but I can't forgive myself," then you have made that sin the false god that drives your life. Yes, making your forgiveness more important that God's breaks the 1st Commandment as you fear, love, and trust in yourself more than God. Yes, when we have these feelings and believe that we have to forgive ourselves for absolution to truly be real, then we make ourselves into God. May the Holy Spirit grant us grace to repent of these feelings.
Refusing to feel forgiven until you forgive yourself is one thing and repentance is needed. However, struggling with believing that God forgives you is another thing. Yes, we know the theology that teaches us that we are forgiven by grace alone, according to God's mercy in Christ Jesus, without any merit or worthiness within us. Yes, we know that we are forgiven unconditionally because Jesus died on the cross for all our sins. Yes, He even died for those sins when we can't forgive ourselves and remember the transgression no more. Yes, Jesus died on the cross to forgive us when we can't forgive ourselves. He died because He knows that we will never put the sin to death and remember it no more. He knows that the devil daily reminds us of our sins, the world never lets us forget, and the Old Adam causes us to feel terrible as if we are outside of God's mercy and grace. Yes, Jesus died for us when we can't forgive ourselves in order that He can take the sin from us, put it to death on the cross, and come to us repeatedly in the means of grace to forgive us our sins.
So, if you are one who struggles to forgive yourself, stop wasting time worrying about your sin. Call your pastor and go confess your sins to him, and He will, in the stead of Christ, forgive you your sin, no matter how many times you need to confess it. Yes, you can struggle with a sin for the rest of your life and struggle with letting go of that sin, and your pastor will forgive you, for great is the Lord and His mercies are new every morning. When you are faithless, God is faithful to forgive you for He can't deny Himself. Yes, when you say, "I can't forgive myself," may the Holy Spirit to comfort you in the reality that your personal forgiveness does not save you, but rather being forgiven by Jesus does. Yes, and if you can't get to your pastor, confess your sins to a brother or sister in Christ, and they will remind you of the same thing and remind you that you are a baptized child of God whose sins are forgiven, including that one you can't forgive yourself for. Yes, when you can't forgive yourself, Jesus forgives you for you and remembers your sin no more. May the Holy Spirit lead you to abide in Jesus' forgiveness, that you may rest assured in the reality that your Father in heaven sees you as a pure saint, sinless and destined for eternal life with Him.
Peace be with you. May the devil be silenced, the world be hushed, and the Old Adam be drowned anew so that you may hear only the peaceful voice of your Savior Jesus who says, "I love you. I forgive you. I claim you as My own forever," Amen.
Jesus' Sheepdog