Comfort of Barabbas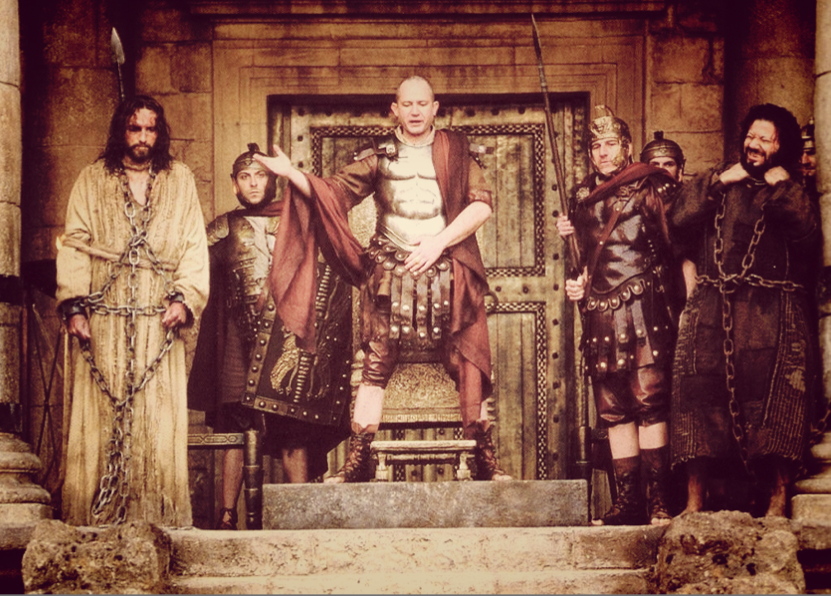 The Gospel according to St. Mark says, "6 Now at the feast he used to release for them one prisoner for whom they asked. 7 And among the rebels in prison, who had committed murder in the insurrection, there was a man called Barabbas. 8 And the crowd came up and began to ask Pilate to do as he usually did for them. 9 And he answered them, saying, "Do you want me to release for you the King of the Jews?" 10 For he perceived that it was out of envy that the chief priests had delivered him up. 11 But the chief priests stirred up the crowd to have him release for them Barabbas instead. 12 And Pilate again said to them, "Then what shall I do with the man you call the King of the Jews?" 13 And they cried out again, "Crucify him." 14 And Pilate said to them, "Why? What evil has he done?" But they shouted all the more, "Crucify him." 15 So Pilate, wishing to satisfy the crowd, released for them Barabbas, and having scourged Jesus, he delivered him to be crucified" (St. Mark 15:6-15 ESV).
When we read this account it is easy to pass by this moment because we read it so often. We have all heard the account of Barabbas since our youth and because of this it is easy to assume we know it all too well. However, in these few verses we see the blessed exchange taking place in which one who is guilty is released, while the innocent one is condemned. We see a murderer freed, while the creator and giver of life is scourged. We see a sinner pardoned, while The Absolver is delivered over to be crucified. In short, in the exchange of Barabbas for Jesus, we see the blessed exchange, Jesus taking Barabbas' place and Barabbas going free.
This blessed exchange is our greatest comfort in this life. We, like Barabbas, deserve nothing but death and hell. The law declares that we have nothing to expect but punishment for our sins and eternal torment. However, the preaching of the law is never alone. The consoling word of the Gospel is added which brings consolation and forgiveness in the preached Word and in the Sacraments distributed. Jesus took Barabbas' place and was sent to die. Jesus took our place as well and died our death so that, like Barabbas, we may be set free and live.
The comfort we can derive from Barabbas is that no matter the sin, Jesus takes our place. Barabbas was a rebel and a murderer, a true son of the devil. Like him, we are inclined toward sin and the destruction of our neighbor. The account of Barabbas shows us how far our Lord goes to save us. The story of Barabbas shows us that there is no sin that Jesus does not take in order that all may be set free. The story of Barabbas shows us that there is no sin that Jesus does not exchange for His righteousness and life. This account is for our comfort to show us that no matter how terrible our transgression, no matter how dark our thoughts, no matter how filthy our desires, no matter how evil our deeds, Jesus takes them and makes atonement for them. Jesus freed Barabbas, He will free you as well. May this ring in your ears today as the devil, world, and sin drag you into despair. May this ring in your ears and make a home in your heart, "There is no sin that Jesus doesn't forgive. Jesus forgives you and loves you."
Peace be with you. May the devil be silenced, the world be hushed, and the Old Adam drowned anew so that you hear only the voice of your Savior Jesus who says, "I forgive you. I love you," Amen.
Jesus' Sheepdog,
Pastor Hull