Faith is never alone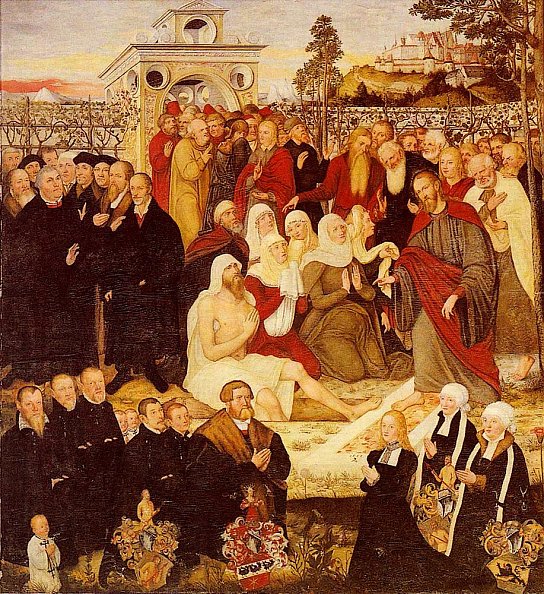 God, through His servant St. Paul, spoke to the churches in Corinth saying, "So now faith, hope, and love abide, these three; but the greatest of these is love" 91st Corinthians 13:13). The Lutheran Confession assert this verse saying, "Yet one is not to imagine a kind of faith that can exist and abide with, and alongside of, a wicked intention to sin and to act against the conscience. But after man has been justified through faith, then a true living faith works by love (Galatians 5:6). Good works always follow justifying faith and are surely found with it-if it is true and living faith (James 2:26). Faith is never alone, but always has love and hope with it (1st Corinthians 13:13)" (Epitome Formula of Concord III.11). The love verses from chapter 13 of 1st Corinthians are best understood in light of how we confess justification. Because we have been given the gift of faith or trust that clings to the promises of God in Christ Jesus our Lord, we now live a life of sacrificial love for our neighbor in the same way that Jesus loves us.
Faith always loves both God and our neighbor unconditionally. However, the Old Adam still clings to our flesh and prevents us from doing the things we want to do. When we fail, which is a daily occurrence, we must not return to our works or merits, but rather should cling to the mercy of God in Christ Jesus our Lord. As the confessions say, "Christ takes Moses' place, not be forgiving sins on account of our works, but by setting His merits and His propitiation against the wrath of God for us so that we might be freely forgiven" (Apology XVII.17). When we fail at love, we should not return to times in the past when we loved well, or look at how we have progressed in love for certain people in certain ways. No. We must never look to ourselves to understand where love comes from, or how love acts, or to comfort ourselves when hate overcomes love. We should repent, and cling to the merit, propitiation, and promise of Jesus that He has taken care of our forgiveness and freely is merciful to us. It is only in this free spirit and faith that love thrives and blooms. Love does not flow from self-righteousness, but rather is the fruit of a humble spirit that clings to the cross of Christ alone.
We love, only because Jesus first and always loves us. As the text says, "Love bears all things, believes all things, hopes all things, endures all things. Love never ends." Jesus' love never ends. There is no end in sight of Jesus' love for you. He will never stop loving you. When you sin, He doesn't reject you and avoid you, but covers you with His righteousness and stains your flesh with His blood. Jesus' love for you will never pass away, but remains for all eternity. Faith is never alone, meaning it always has hope and love with it. But more than this, faith is never alone, meaning it has an object to which it clings and trusts. Faith clings to and trusts in the mercy and promises of our Lord, Jesus the Christ. Faith clings to Jesus cross alone, and rests in Him unceasing. Faith always has Jesus, and because we always have Jesus, we always have joy, love, and hope that never ends.
Peace be with you. May the devil be silenced, the world be hushed, and the Old Adam be drowned anew so that you may hear only the voice of your Savior Jesus who says, "I forgive you. I love you. I claim you as My own forever," Amen.
Jesus' Sheepdog,
Pastor Hull