Get Going in your Baptism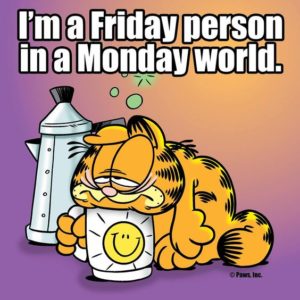 It's another Monday again. That means school is getting started again, the work week begins anew, and your weekly schedule of extracurricular activities has your blood pressure going up and up and up. It's Monday, and like Garfield, no one is really excited about it.
We the baptized though don't need to worry about the dread of the Monday. Yes, it's the beginning of the temporal work week, but it is just another week as we live here in faith toward God and love for our neighbor until we are called home to paradise. As you begin your week today, think of the Baptism of Jesus which St. Matthew recorded saying, "Then Jesus came from Galilee to the Jordan to John, to be baptized by him. 14 John would have prevented him, saying, "I need to be baptized by you, and do you come to me?" 15 But Jesus answered him, "Let it be so now, for thus it is fitting for us to fulfill all righteousness." Then he consented. 16 And when Jesus was baptized, immediately he went up from the water, and behold, the heavens were opened to him, and he saw the Spirit of God descending like a dove and coming to rest on him;17 and behold, a voice from heaven said, "This is my beloved Son, with whom I am well pleased" (Matthew 3:13-17). It says in the text that when Jesus came up from the Jordan river, from His Baptism, that the heavens were opened unto Him. Heaven is opened in Jesus Baptism as He is the anointed sin-bearer, the one who has come to fulfill all righteousness for us. Jesus stands in the Jordan River as the chosen sin-bearer and the Father declares His pleasure in Him alone. The Father is pleased in Jesus alone because He is the righteous one that bears the sin of the world in order that sinful man may be redeemed from sin, death, and the power of the devil and that reconciliation may become reality between sinners and God.
Meditate on this today my friends. You are the baptized. You are the ones baptized into Christ and children of paradise. Heaven is opened up for you and waiting for your arrival. This place is not your home, No. Heaven is your home. Heaven is the place where you will spend your golden years and enjoy life eternal with the Triune God in the marriage feast of the Lamb in His Kingdom which has no end. No matter how stressful the week appears, may you keep in mind the reality of who you are in Jesus, and how the Father is pleased with you because you are covered in Jesus righteousness. Mondays aren't going to get any easier, but in Jesus, we can face 1,000 Mondays in the confident joy that Jesus loves us and that heaven is opened up for us because Jesus is merciful to us. Take heart this week, and may the joy of your baptism and the assurance of your absolution in Jesus wounds comfort you no matter what trial may befall you.
Peace be with you. May the devil be silenced, the world be hushed, and the Old Adam be drowned anew so that you hear only the peaceful voice of your Savior Jesus who says, "I forgive you. I love you. I claim you as My own forever," Amen.
Jesus' Sheepdog,
Pastor Hull