In a Certain Relationship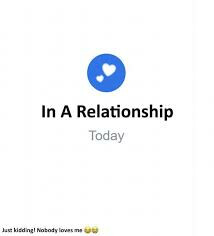 I remember when I started my Facebook account almost 20 years ago. When I was doing the account setup I had to put information in. My favorite was when it got to relationship status and I got to say, "Married to Allison Hull." I didn't just write, "In a relationship," but said, "Married to Allison Hull." It matters what kind of relationship and to whom.
We are always in a relationship with God. There is never a time when we are not in a relationship with God. Some say that hell is the absence of God. This is not right. Hell is where we experience only the wrath of God as punishment for our rejection of His gift of forgiveness. Outside of Christ we are in a relationship of wrath with our Father in heaven as we read in Romans 1:18 which says, "For the wrath of God is revealed from heaven against all ungodliness and unrighteousness of men, who by their unrighteousness suppress the truth." Because we are conceived and born in sin we are under God's wrath. Remember the words God put in the mouth of Jeremiah the Prophet concerning the nations that must drink the cup of wrath saying, "And if they refuse to accept the cup from your hand to drink, then you shall say to them, 'Thus says the Lord of hosts: You must drink!" (Jeremiah 25:28). Because of our sins, we are under God's judgment and must drink the cup of His wrath. We can't redefine how God views us by means of good works, nor attempt to get God to change His mind about what is righteous and what is wicked. Rather, the cup of HIs wrath must be drunk down to the dregs in order that our relationship with Him may be updated, changed from one of wrath to one of grace.

Because we are weak and sinful enemies of God we are under His wrath. However, God is not by nature the God of wrath, but the God of mercy Who desires not the death of the sinner, but that all may live and come to repentance and abide in the forgiveness of their sins. The reality of mercy is that God does not give us the punishment we deserve, but instead forgives us our sins in the life, sufferings, death, and resurrection of our Lord Jesus. God does not punish us, but instead shows us His grace, His undeserved love unmerited by us. In Christ, we are brought out of a wrathful relationship and into a friendly relationship with our Father.
This friendly relationship with our Father was purchased on the cross. Let us remember our St. Paul who said, "All this is from God, who through Christ reconciled us to himself and gave us the ministry of reconciliation; 19 that is, in Christ God was reconciling[c] the world to himself, not counting their trespasses against them, and entrusting to us the message of reconciliation. 20 Therefore, we are ambassadors for Christ, God making his appeal through us. We implore you on behalf of Christ, be reconciled to God. " (2nd Corinthians 5:18-20). Christ is our reconciler. He is the One that, on the cross, bought us back from the devil and satisfied the Father's wrath against our sins. One must drink he cup of wrath, and Jesus did for us, that we may be reconciled to God our Father. To be reconciled means to be taken from a relationship of wrath and placed into a relationship of love and forgiveness with our God and Father.
The relationship we are in with God matters. Thanks be to God that, in Christ, we are in a loving relationship with our Father in heaven because of the death and resurrection of Jesus. Thank God that we are absolved and acquitted all our sins in the forgiveness that Jesus purchased and won there. Thank the Lord that, unmerited by us, we receive the grace and favor of our Father in heaven and are loved by Him with the same love that He loves His Son. May the Holy Spirit continue to remind us of this reconciled relationship in order that we may not fear or hate God, but may rejoice in His presence here in time as we anticipate it unto eternity.
Peace be with you. May the devil be silenced, the world be hushed, and the old adam be drowned anew so that you may hear the voice of your peaceful Savior Jesus Who says, "I love you. I forgive you. I claim you as My own forever," Amen.
Jesus' Sheepdog