Jesus died for Samwise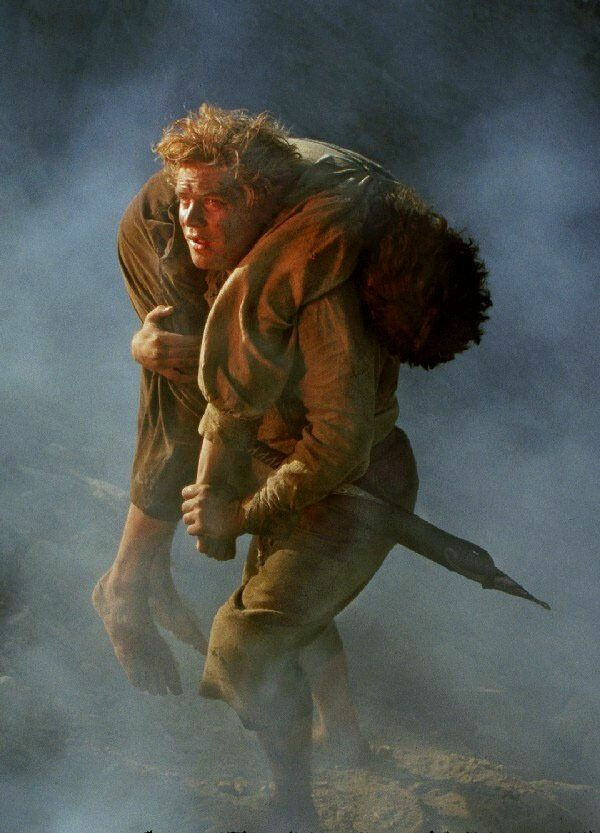 Come on, Mr Frodo. I can't carry it for you, but I can carry you." If you're not a LOTR geek like me, then you've don't know who Samwise Gamgee is. Lord of the Rings is a fantastic series written by J.R.R. Tolkien. In the last book, The Return of the King, Frodo and Sam have entered Mordor where Frodo will destroy the Ring of Power in the fires of Mount Doom. Frodo's uncle, Bilbo, had found the One ring of power that controlled all others. Sauron, the dark Lord, had formed the ring to control all life. He lost was defeated and eventually the ring was found by the creature Gollum, who lost the ring to Bilbo. When Frodo was given the ring, He was charged by Gandalf to destroy the ring and rid Middle Earth of evil. Frodo alone was to carry the ring and destroy it. But, his friend Sam went along with him on his journey to certain death. In the middle of the book, Sam comforts Frodo with images of the Shire, their home, and then ends by saying the quote mentioned above. Samwise could not carry the ring for Frodo, but he could and would carry him through any trial that would come their way.
It is the same for us. We cannot carry the burden of our friends sin, but we can carry them. We cannot carry the anxiety, the doubt, and the worry, but we can carry our neighbor. We cannot carry the anger, lust, and envy, but we can bear our neighbor's burden and thus fulfill the law of Christ. We cannot bear our friends sins and make atonement for them, but we can and do comfort our friend in the forgiveness of their sins that Jesus purchase and won on the cross for them. We cannot carry their burden, but we can carry our friend through Mordor, through the strife of this life as we joyfully wait for the life that is to come.
We are Samwise to our friends during this time of pandemic with the Coronavirus. During this time of pandemic, everyone's inner self is amplified and brought out into the open. We are seeing our friends secret burdens, and we ourselves are letting things out as well. It is harder in these times to carry our neighbor's as Sam carried Frodo. When life is easy, when it's the Shire life, then we can carry our friends, family, and neighbor's with ease. However, when we are in the flames, in the chaos, we fail at carrying them out of fear and selfishness. Jesus died for us when we don't carry our neighbor. Jesus died for us when we fail to help out those in need. Jesus died on the cross for us when we are drained, emotionally spent, and physically exhausted. Jesus died for us in order that He may take away from us those things that drain us, in order that He may fill us up with His righteousness, innocence, and blessedness. Jesus died, that He may bear those things that drag us down. He died for us when we are spent and can't love our neighbor anymore. Jesus died, so that all selfish desires may be forgotten by us. Jesus died, that we may have the strength to love our neighbor, knowing that Jesus loves us. We love, because He first loved us giving Himself on the cross for us that He may carry us through this life to His joys immortal. Jesus died for Samwise Gamgee. Jesus died for us when we can't carry our neighbor. Jesus died, so that we may continue to carry our neighbor, and be carried by them.
During this time, it is the Church's vocation to carry the burden of the world in pray, preaching, and good works. We are the Samwise Gamgee of the world. We cannot atone for the sins of the world, but we carry the burdens of the world as we preach Christ and Him crucified for the forgiveness of all, while at the same time caring for all in whatever need they have. We will exhaust ourselves if we believe we are doing this on our own, rather than knowing that it is no longer we who live, but Christ who lives within us. May Jesus give us the nourishment and the strength for the days ahead, carrying us along as we carry the burdens of our neighbor, that evil may be overcome, and we may finally win the victory by His grace and mercy.
Peace be with you. May the devil be silenced, the world be hushed, and the Old Adam be drowned anew so that you may hear the peaceful voice of your Savior Jesus who says, "I love you. I forgive you. I claim you as My own forever," Amen.
Jesus' Sheepdog