Jesus died for the Sloths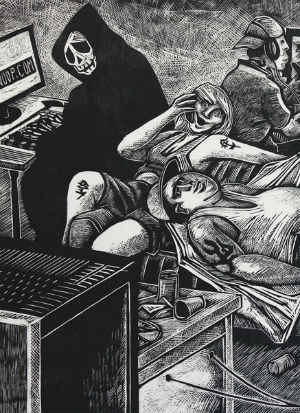 Wise King Solomon, inspired by the Holy Spirit, wrote, "Go to the ant, O sluggard; consider her ways, and be wise." (Proverbs 6:6). Did Jesus die for the sloth? Did Jesus die for those who are lazy and selfish? Did Jesus die on the cross for those who are self-centered and would rather leech off of others and never contribute to their neighbor's well-being? How does God view those who would rather take, than give their time, talents, and treasures for the good of all around them? Remember the words St. Paul wrote to St. Timothy saying, "But if anyone does not provide for his relatives, and especially for members of his household, he has denied the faith and is worse than an unbeliever." (1st Timothy 5:8). Man's life is not meant to be lived out in self-love and slothfulness, but rather is spent in receiving God's Word and in serving the neighbor in whatever capacity they need. Yes, man is not created to live for himself, but rather is created to be loved by God and to love his neighbor in response. When man is lazy, he neither cares for God's love, nor desires to love his neighbor, but just wants to his sinful desires to be gratified.

The lazy man will never wake up and start living for both God and the neighbor. Just like every other sin, man cannot save himself from the sin of laziness and sloth. No, man must be rescued from a heart that doesn't want to do anything. Yes, man must be saved from a life of sloth, laziness, and selfishness. Man's heart must be replaced with a heart of faith that desires nothing but to receive God's love and love his neighbor everyday in response.
May the Holy Spirit grant us repentance that we may cease our lives of lazy and self-centered gratification. Yes, may we forsake the notion of "me time," and see that all our time is spent in relationship with both God and our neighbor. Yes, may we be set free from a life of caring about ourselves more than we do about God and others. May Jesus come and take our desires away from us and give us instead hearts that desire to love, forgive, and serve until we are called home to heaven.
Jesus, being lazy and not being industrious is an incarnation of an unrighteous fear of God. Remember the parable of the talents that Jesus preached which says, "He also who had received the one talent came forward, saying, 'Master, I knew you to be a hard man, reaping where you did not sow, and gathering where you scattered no seed, 25 so I was afraid, and I went and hid your talent in the ground. Here, you have what is yours.' 26 But his master answered him, 'You wicked and slothful servant! You knew that I reap where I have not sown and gather where I scattered no seed? 27 Then you ought to have invested my money with the bankers, and at my coming I should have received what was my own with interest. 28 So take the talent from him and give it to him who has the ten talents. 29 For to everyone who has will more be given, and he will have an abundance. But from the one who has not, even what he has will be taken away." (Matthew 25:24-29). The one who is scared of God does not go out and live in faith toward Him and in fervent love toward His neighbor. The only way our unrighteous fear of God is removed is when Jesus comes and consumes all the Father's wrath against us that condemns us because of our sins. Yes, only the cross of Jesus removes the threat of the Father's wrath against us thereby freeing us from living in unrighteous fear and therefore laziness for our whole life.
Yes, on the cross, Jesus suffered the full wrath of the Father for us that we may now receive nothing but forgiveness and mercy. Yes, because Jesus quenched the fire of God's wrath on the cross, we now have nothing to be afraid of because we are children of mercy and forgiveness. Yes, we are no longer punished for our sins, but rather forgiven them and set free to live confident and industrial lives in faith toward God and in fervent love toward our neighbor. Yes, now we live outside of ourselves because we are completely loved by God and taken care of by Him. Yes, Jesus died on the cross for lazy people to free them from their fear of being condemned by God. Yes, we need no longer be scared of God, but see Him as our Lord who desires to take care of us from the font to the grave and unto eternity.
Peace be with you. May the devil be silenced, the world be hushed, and the Old Adam be drowned anew so that you may hear the peaceful voice of your Savior Jesus who says, "I love you. I forgive you. I claim you as My own forever," Amen.
Jesus' Sheepdog